Maria Cencaru
Maria Cencaru is an imaginary and long-hidden alter ego of mine that I would like to discover. Around this character, I would like to investigate the queer stories and issues in my country Malaysia into a dance project.
(Picture) I was 11years old and dragged as a female singer in a Children Talent Competition in 1998.
(Video) Unfortunately I could not find the video of my competition since we moved to a new house, this is the song I used for the competition-Ja Jambo, Ge Lan/Grace Chang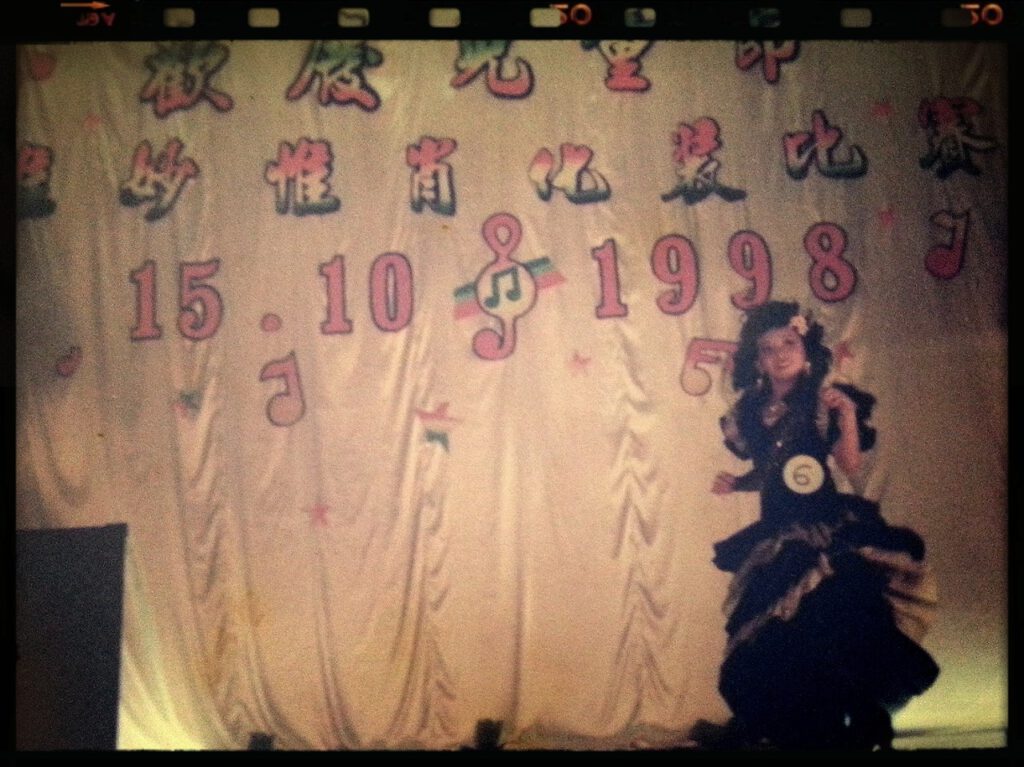 (Video) Mak Yong, A Malay Theater Performance – During a class which all different faculties students needed to attend,  one thing to mention, there are almost 97 % of the students are Muslims. (I was the one with white T-shirt and I am not a Muslim.)
– All students are required to learn the steps and the male students from other faculties had difficulties to learn it as they considered those movements were very feminine.  
– End of the video, my so-called feminine Muslim classmates were messing up with some party moves. 
– From this short video, I see that we were in a conflicting situation, there is a big grey zone and undefined  in terms of how we deal with the topic of gender, queerness in art and in reality.
(Video 2) In Mak Yong, women have major roles including playing male characters, while men participate in minor roles and as musicians. The principal roles are pak yong (lead male character), mak yong (lead female character) and peran (clown or attendant).
(Pictures) My classmates and I were dressed as village girls in a scene of this Mak Yong performance. 
-Gender fluidity in the traditional performance is common in the old days till now.
JAJA – Album
(music reference)